SMOK RPM40 REPLACEMENT COILS AND RBA
The Smok RPM40 Replacement Coils, you can choose the 0.4ohm Mesh Coil, 0.6ohm Triple Coil, 1.2ohm Quartz Coil, 1.0ohm SC coil and the RPM RBA core. the Smok Replacement Coils to meet your different vaping demands. the newly designed RPM mesh 0.4ohm coils designed for the best flavor and excellent vapor production, if you want to try the DIY coil on the RPM 40 Pod Kits, you can choose the RPM RBA Core. can use the 0.3ohm MTL-Mesh, 0.4ohm Mesh, and 0.6ohm Triple Coils for the regular e-juice, the 1.0ohm and 1.2ohm Coils optimized for Nicotine Salts.
Quick Links:
RPM Mesh Coil 0.4ohm, Best: 25W, For Best Flavor, Fast Heating Process
RPM Triple Coil 0.6ohm, Best: 25W, Fast Ramp-Up Time, Excellent Flavor& Vapor Production
RPM Quartz Coil 1.2ohm, Best: 12W, Fast Heat Up Time, For Purer Flavor
RPM SC Coil 1.0ohm, Best: 14W, Intense Flavor& Dense Vapor

RPM RBA,

1PC Per Pack Only, Supports Coils With A Minimum Resistance Of 0.25ohm,

Bring You Massive Vapor And Purer Flavor

RPM MTL Mesh Coil 0.3ohm, Best: 20W, MTL Vaping, Massive Vapor& Excellent Flavor, More Power Efficient& Longer Lifespan
5PCS Per Pack

Fit For

Smok RPM40 Kit

Only
Includes:
1*RPM40 Coils(5PCS/Pack)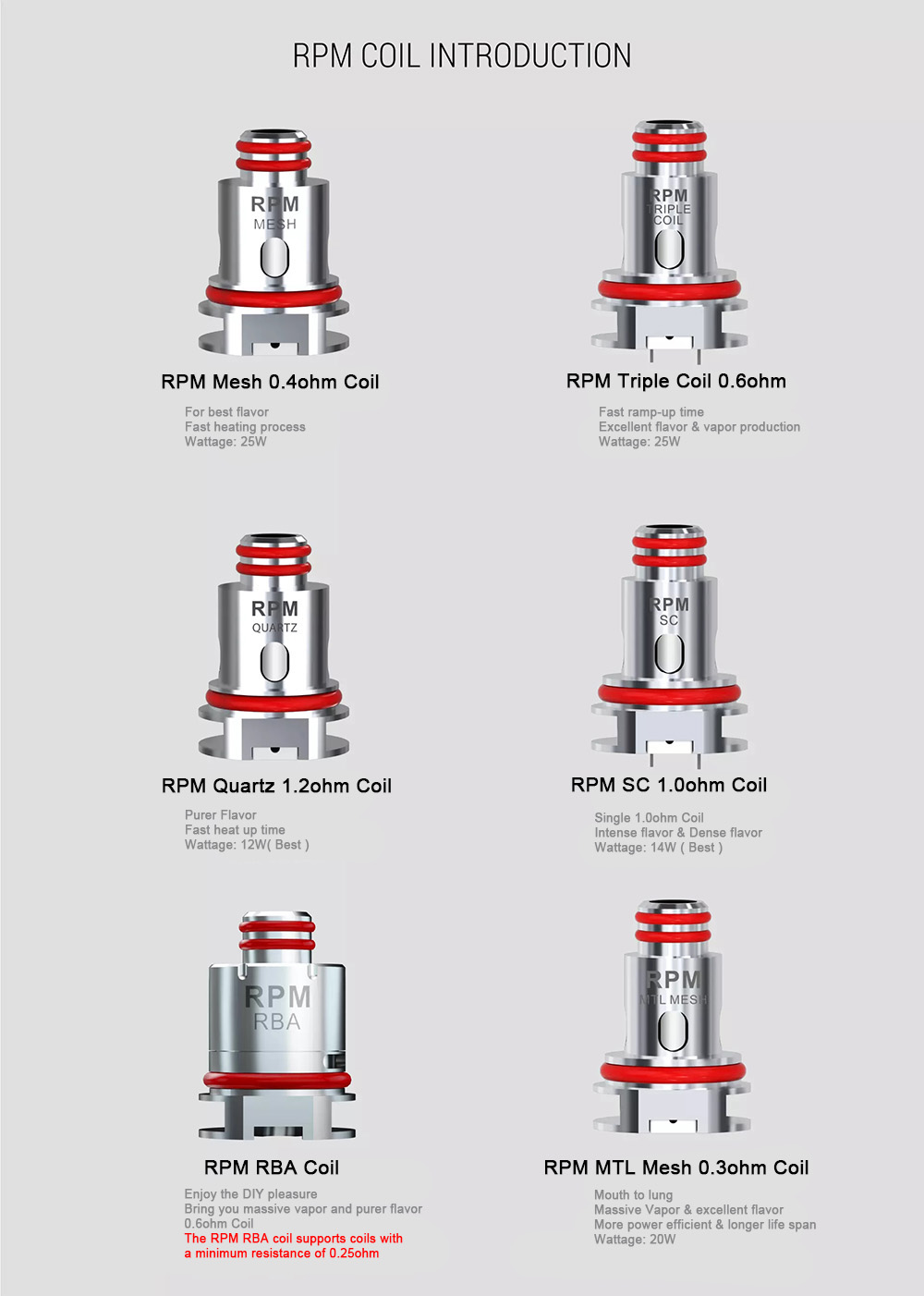 How To Build The Smok RBA, Check Here
Note: please ensure you have basic knowledge on how to properly use it.
1) if the coils are sub-ohm coils, the user should be sure that the tank and mods can handle the sub-ohm resistance coils, please make sure you have the great understanding of them, if you are not sure, please do not order and use, welcome contact us any time to get help.
2) Smokstore will not responsible or liable for any injury, damage, defect, permanent or temporary that may be caused by the improper use of Li-ion battery, coils, tanks, mods. please have a basic knowledge of batteries. Welcome to contact us anytime to get help.